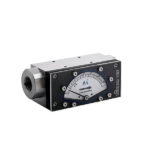 Piston Type Flow Rate Indicators-FRI
KEY FEATURES:
Hermetically sealed electrical contacts.
Better accuracy over the range.
Precisely adjustable flow setting.
Low maintenance.
APPLICATIONS:
Industrial monitoring application
Oil Monitoring in Lubrication and hydraulic systems
Flow switching in High Pressure Systems
Flow Switching in Cooling Plants
Coolant Monitoring in Machine Tools
High Pressure Flow Rate monitoring
NXG MTD make compact type, magnetically actuated Piston type flow switches are designed for positive detection of fluid flow through your equipment. FS series models provides adjustability over wide range. These are suitable for water, kerosene, Very low viscosity lubricating oils, gas/air etc.